Axis The Information Technology Professionals (AxisITP).Are you looking to connect with real people who know website design & development? Then look no further than AxisITP will do everything website related.
Axis The Information Technology Professionals (AxisITP)
Axis The Information Technology Professionals is an IT Services Consulting Firm, actively participating in Software Development for a wide range of industrial, commercial and Government-owned organizations.
With our proven track record, standing high in a competitive scenario for business automation services, we have successfully entered into the international arena with a wide range of clients in USA, Europe, Africa, Australia and South Asia. Yet, we still have a long way to go!
Strengthened with all the encouragement from our clients, the company's staffing resources today perform on a solid ground to meet the challenges of Customized Software that each business setup rightly demands to acquire. Come what may, we are there to translate their business requirements (a wish list that we call!) into a practical software.
So what have we acquired? We have gained experience in developing Customized Software Packages for Healthcare, Educational, Financial, Products Trading, Stocks Trading/ Management, Web-based, artificially intelligent, eCommerce, Comparison Shopping, Real Estate, B2B, B2C, CMS and CRM. Yet, e-Commerce websites for small to large-scale firms are our forte. We start from scratch via business-need-analysis to project development, from project deployment to analysis of marketing strategies, from online-success to Ranking-Enhancement through SEO. What more? We hold the hands of our clients through success till they achieve their goal of "having a successful business". And then? We lead them to expand their horizon and encourage them to start another online business. And we are always there to take the lead! So we have acquired the enormous business and prospering clientele!
The more you know about us, you will start coming closer to us. Keep reading the pages that follow!
---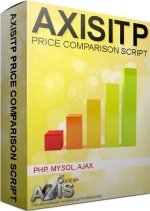 Price Comparison Script
AxisITP Price Comparison Script is most popular and up to date script in the price comparison industry. The AxisITP is the first company in the price comparison industry who launched the admin, merchants, affiliate, user panels and front-end when the script was launched (all in one at once). The script stood great ever in the price comparison industry. AxisITP price comparison script can be used either you want to use it as a price comparison website or a price comparison affiliate, merchant's engine system. AxisITP price comparison script is very user friendly with the great CMS interface on the backhand side and a common person can use it, even if he/she knows how to use MS. Word!
---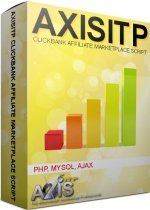 ClickBank Affiliate Marketplace Script
AxisITP ClickBank Affiliate Marketing Script is a nice script for affiliate marketing it allows you to generate products, categories and hoplinks automatically in few clicks! Very easy to use with the great CMS system on the back-end side. Easy to use like 1,2 and 3.
Our Testimonials
AxisITP was very knowledgeable and nice people. great workers and high skilled expert to work with. I highly recommend them to anyone! .
He is the best worker I have worked with. I have been developing for 10 years and I have not worked with a smarter worker.
He's the boss! What an amazing worker! He impressed me beyond my imaginations! and my imagination is pretty good! He is like the superman of workers!
very nice and quick work.
AxisITP has done an excellent job with the website and I would hire them again.
AxisITP was a great group to work with! They have been very patient with me considering I wasn't able to make up my mind in the beginning. Once we finally got things straightened out they did a great job of turning my idea into a working webpage. If you need a website done you should pick Salman Abid and his group because they will do a great job for you!
Should be rated 11. Very patient and worked hard to complete the job. Communicates well and worked beyond scope of work due to glitch in my mysql/PHP files that he worked around.
A very attentive person that looks into all the details! Highly highly highly recommended! Professional at work is very different!!!
Once again - job well done - exactly as requested and very helpfull - would recommend to anyone
A+ If you need a tempate done then this is your man, hope to use again in the future.
Got the job done as expected, all problems sorted and good communications A++++++ Recommended
Excellent responsiveness to feedback and quality work!
This coder provided a high quality solution and reacted quickly to my questions as the project progressed